It is evident that Twitter is the place to be for the latest crypto alphas and news from your favourite influencers.
In the space where tweets are dished out so quickly, comprehending information entirely could be overwhelming. Using tools in this article enables you to keep your focus on pieces of information you deem worthy upon selection.
(Information for this article is adapted from @alpha_pls on twitter, none of what you read should be considered as financial advice)
1. Twitter Lists
Let's start off with the most basic — a useful tool most people tend to overlook.
"There are 500 million tweets sent each day. That's 6,000 tweets every second." It is difficult to comprehend 6,000 tweets especially if they are tweets across anything the world wants to talk about.
To get crypto alphas on Twitter, you first have to be organized. Creating Lists allows you to filter out the noise and easily scan through specific chains/sectors such as layer1s, layer2s, interoperability chains, NFTs and more.
You may also choose to join Lists created by others on Twitter, or from your own account you can choose to create Lists of other accounts by group, topic or interest.
If you feel overwhelmed check our your fav crypto influencers to see if they have ready made lists for you to use.
Guide to setting up your Twitter List
Step 1: Click on Lists in the navigation bar.
Step 2: Click the Create new List icon at the top.
Step 3: Choose a name for your List, and a short description of the List. List names cannot exceed 25 characters, nor can they begin with a number. Then select if you want the List to be private (only accessible to you) or public (anyone can follow the List).
Step 4: Click Next.
Step 5: You can then search for people and add people to your List.
Step 6: Click Done.
Read More: 10 Crypto Twitter Accounts Everyone Should Follow In 2022
2. TweetDeck
If you are into organizing your feed and not compromising on viewing all of the content at once, TweetDeck is essential for you.
Here, you can add anyone's public lists to TweetDeck columns, maximizing the effectiveness of the Lists you follow using TweetDeck columns.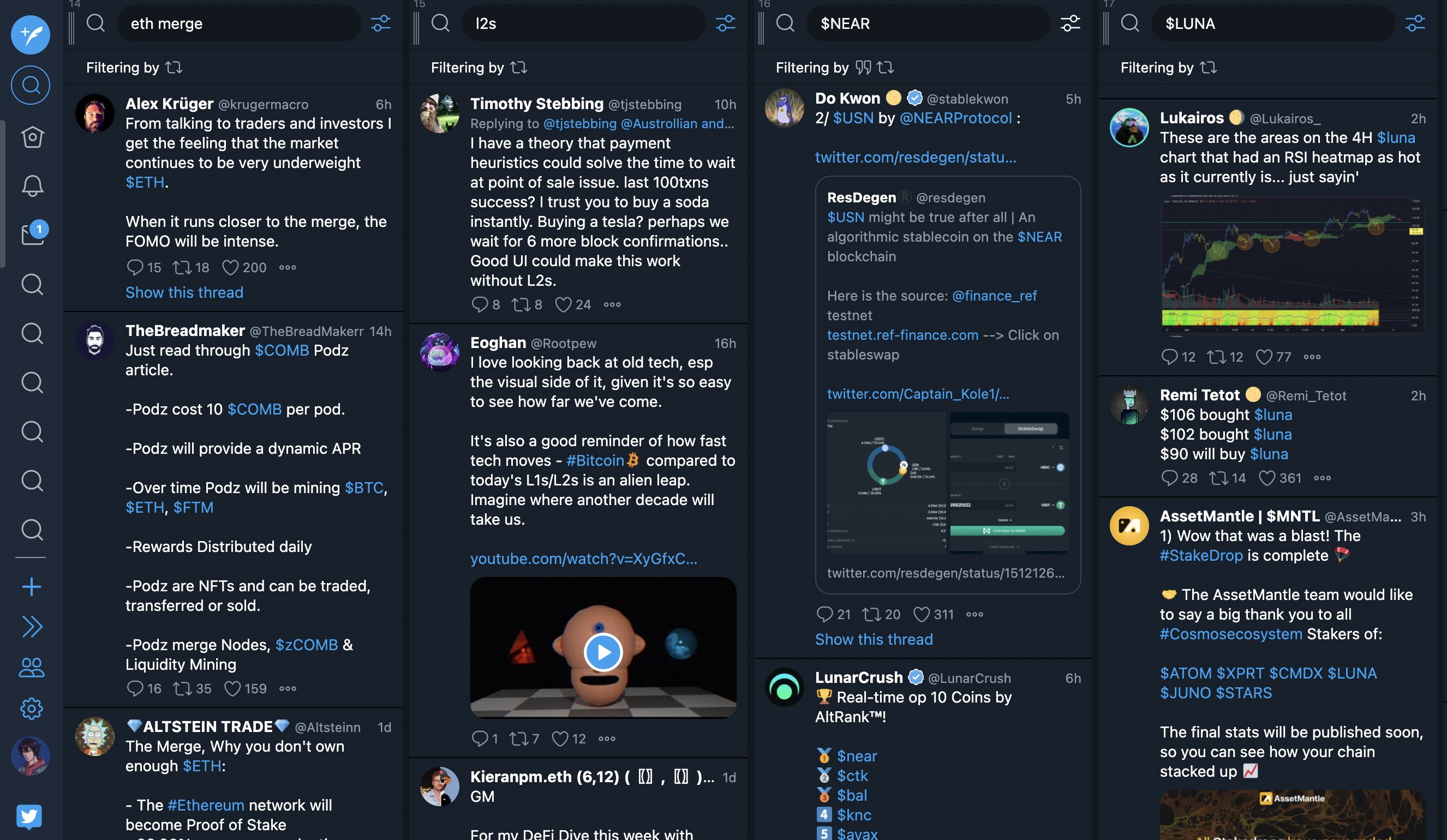 Add cash tags you would like to monitor as columns, but modify the settings to try and filter the most engaging tweets. E.g. minimum 10 RTs/likes.
Muting various words such as giveaways, competition, whitelist etc. This helps to cut out noise and everything not necessary.
One other tip to maximize TweetDeck is adding key narratives into the columns.
3. Turning on notifications
Time is of the essence. Being early in knowing information may enable you to catch shorting/long opportunities simply by having accounts with notifications turned on.
You may further utilize this tool in making decisions for your biggest bags.
Even though it's a basic task, many individuals fail to do it.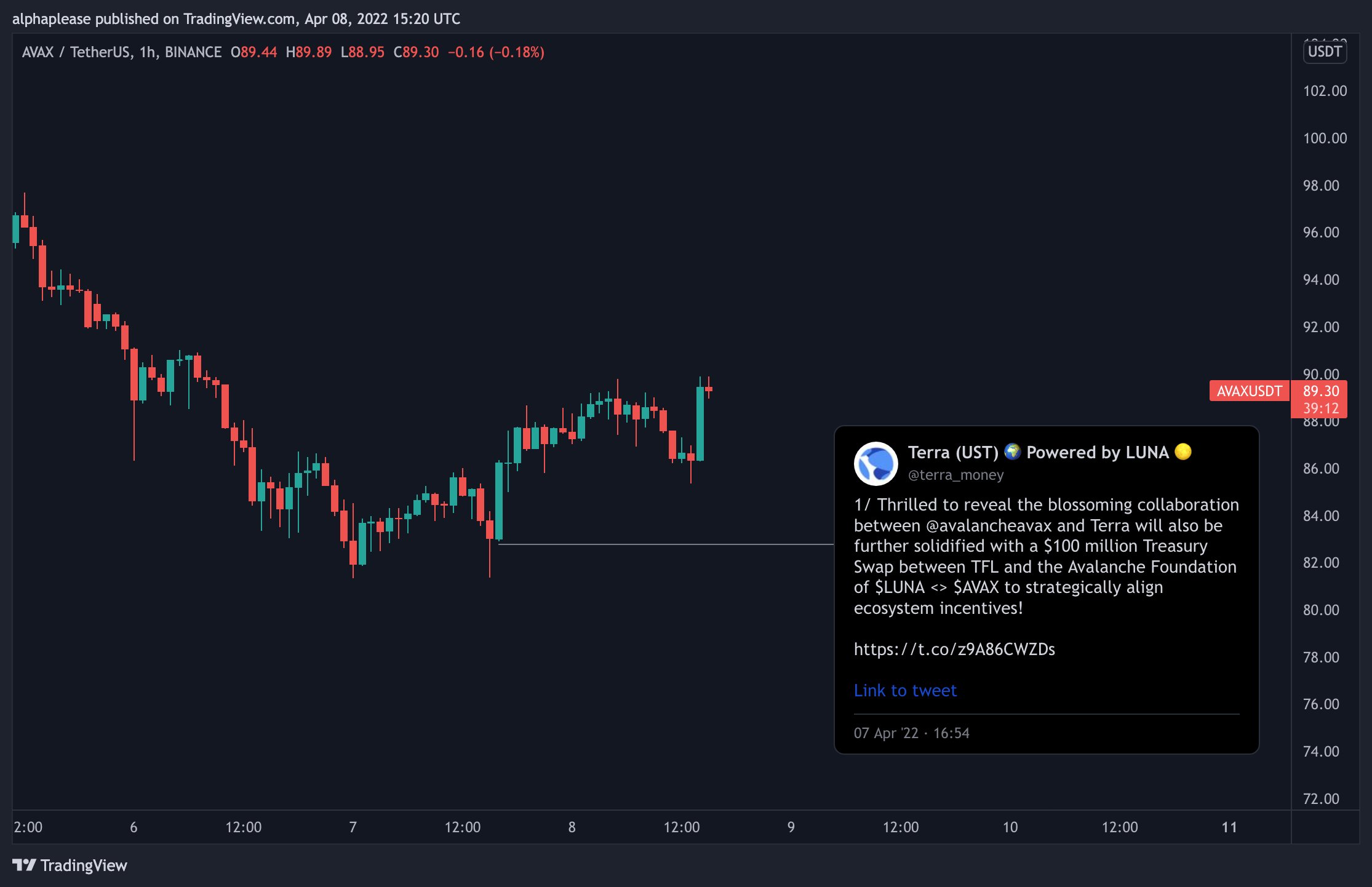 4. Use IFTT
IFTT (If This Then That) is an incredible tool that allows you to automate actions across apps, devices and services.
IFTTT Tip 1: You can use IFTTT to save Tweets featuring specific content to a Google spreadsheet. This can work for any topics you want to stay on top of.
For me, being deep in the Cosmos ecosystem, I utilize this app for any upcoming eligibility and claiming of airdrops to save tweets containing #ATOM or #Airdrops.
IFTTT Tip 2: IFTT can send a notification every time a new Tweet matches your search query.
By monitoring projects which are under the radar, you would be able to see any conversation on big accounts mentioning them.
5. Monitor @Chad_Follows
This was personally recommended by @Alpha_pls.
@Chad_Follows is an alpha account if you are looking for Twitter accounts to follow.
This gives you the opportunity in getting into projects and crypto alphas early from the biggest "chads" in the space. Utilize this to supplement your TweetDeck or lists to get the latest news.
6. Bookmark tweets
Make this a habit. Bookmarking tweets enables you to revisit tweets which you may want to read later.
To optimize, find a thread for various narratives/trending projects and review them at the end of the week.
Here are some of the tweets I have bookmarked over the months.
Building a successful crypto portfolio
Thread about finding out what kind of investor you are
Mastering Etherscan
Thread on the Cosmos ecosystem
Closing thoughts
In my opinion, these little changes you make on your Twitter will pivot yourself in catching alphas early.
Accessible and free, there's no reason for you not to get yourself equipped. Just setting aside one hour of your time right now, when done correctly, could lead you in getting that gem from crypto alphas.
[Editor's Note: This article does not represent financial advice. Please do your own research before investing.]
Featured Image Credit: Chain Debrief
Also Read: Your First Step Into The Crypto World: Top 10 Free Crypto Tools
---
Was this article helpful for you? We also post bite-sized content related to crypto — from tips and tricks, to price updates, news and opinions on Instagram, and you can follow us here!