Welcome to Market Debrief, where we summarise some of the notable events that happened throughout the week.
The crypto landscape is ever-changing with new innovations and regulations popping up every day.
It is very hard and time-consuming to keep track and filter all the latest news in this space, and so the Chain Debrief team decided to compile it into an easy-to-digest article.
Market showing signs of recovery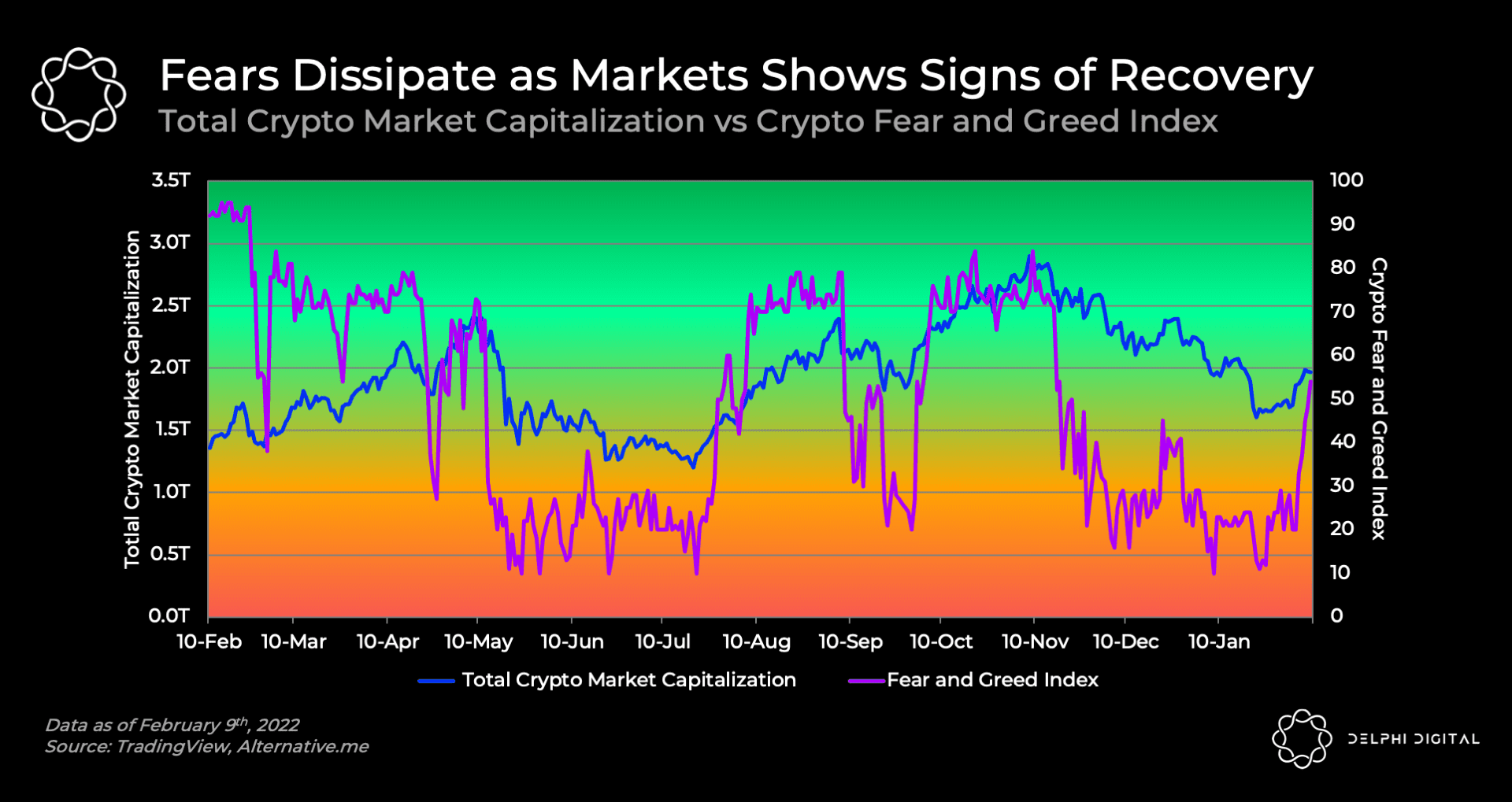 With the markets showing signs of reversal from their lows in January, investor sentiment has moved away from "Extreme Fear" to "Neutral".
The crypto fear and greed index currently sits at 50, bouncing from the extreme fear of 12 back on the 24th of Jan and the highest since mid-November.
Key levels for BTC
Being up 13% this week, BTC is still far off from November's peak at US$69,000. After hitting the week's high at US$45,500, BTC is expected to see a pull back in price action, possible consolidation around the US$42K range for BTC to remain bullish.
The next level of resistance BTC faces is between U$45,000-US$47,000. The Relative Strength Index (RSI) on the daily chart is not overbought, which leaves additional room for profits to be taken this week.
400 days of Bitcoin consolidation
At times, we need to zoom out and look at the "bigger picture". The daily chart shows BTC being in a sideway consolidation phase for more than 400 days.
During this range consolidation, hodlers have been stacking up on BTC and the supply is becoming more scarce on exchanges.
Support levels and resistance levels were respected during the consolidation. It is likely to see massive movements if the range breaks either upward or downward.
NFTs going strong
Amid the bear market earlier this year, NFT trading volume was unfazed and it was going strong throughout the month.
Earlier this month, NFT marketplace OpenSea even hit a record high of over $US240 million trading volume in a single day.
NFT have moved on from just a craze as price held steady as crypto market dipped. Blue-chip NFTs can now be seen as an alternative safe haven from bear market as it is no longer tied to fluctuation in the price of Ether.
Low gas fees with GEM
Both Gem and Genie are NFT aggregator platforms that allow users to shop across numerous NFT marketplaces. These protocols also allow users to make bulk purchases in a single transaction.
Gem, the new NFT aggregator in town have been cooking up a storm. It didn't take long for Gem to surpassed Genie in daily trading volume.
Its success is attributed to its emphasis on gas optimization. It is able to consistently execute transactions at a fees 30-40% lower than Genie.
Gem can even optimize gas for a single NFT purchase. With this consistent performance, it is only a matter of time before Gem become the number one go to NFT aggregator platform.
Twitter Digest
Russia to recognise crypto as currencies
CO92 DAO — the world's first soccer DAO
AAVE launches web3 social media platform with Lens Protocol
American Investment Management Company BlackRock reveals plans to offer crypto trading services