Neta is the currency on the Juno Network. It forms a decentralized store of value, medium of exchange and a unit of account.
Its sole purpose is to function as a scarce decentralized store of value and an asset for the Juno Network and the IBC Cosmos at large.
One thing special about Neta is its community driven outlook. The release of the token does not involve a seed/private/public sale but instead, held by the Juno community.
Its distribution is done mainly through those who staked in helping securing the Juno network three months ago.
Also Read: Juno: The Layer 1 Solution Building An Interoperable Future In The Cosmos Ecosystem
When Neta is distributed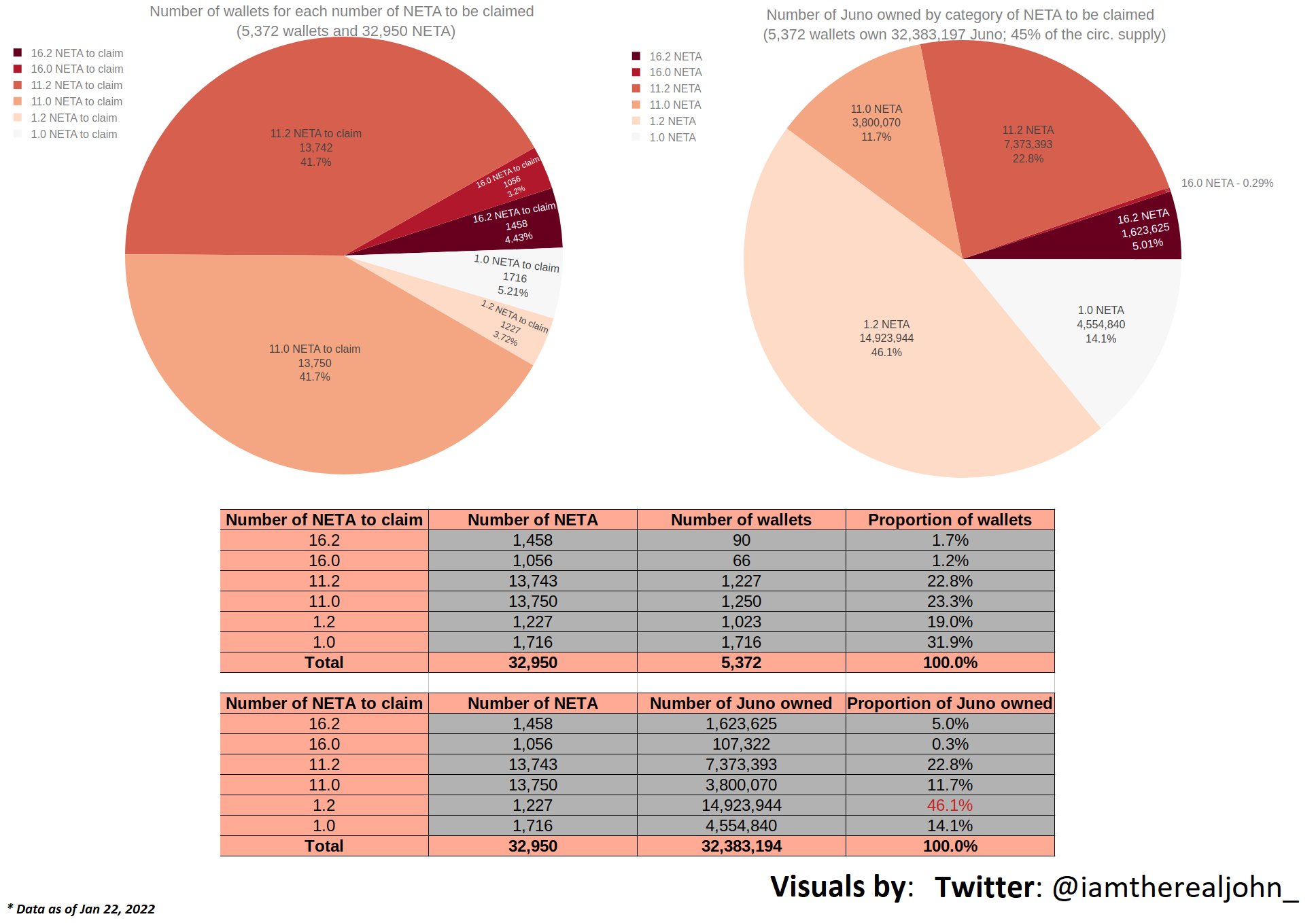 A snapshot for the NETA airdrop was taken on 15 December, the same day as the Moneta upgrade which saw smart contracts go live on Juno.
All Neta tokens will enter the general public between 1 February 2022 to 28 February 2022. These tokens will be distributed to those who
Staked 25 Juno on-chain: 1 NETA
Person who voted at least 1 on-chain governance proposal: 10 bonus NETA
Person who voted on all on-chain governance proposal: 5 bonus NETA
Person delegated at least 1 validator outside the top 20: 0.2 Bonus NETA
To check your eligibility and to claim your Neta airdrop here. Be fast as you have less than 24 hours to claim your airdrops from time of publishing.
Bitcoin 2.0?
With only 32,950 in circulation. Individuals who secure the network early would be able to get 16 NETA if all the criteria are met.
Currently trading at US$1,598, the Cosmos community dubbed the Neta token to be the next Bitcoin or similar to how gold works as a store of value.
It is the money of the Juno network and some people are claiming it will only grow in value as the crypto market continues to roll out in international adoption.
Do you see this token being the next Bitcoin or gold?
(Not Financial Advice) Based on the current price, the total market cap of Neta is currently US$1,598.49 x 32,950 = US$52.6 million.
Lets re-engineer this equation and calculate how much each Neta token will be valued if it market cap reaches a certain price level
US$200M Market Cap = US$6,069 per Neta
US$500M Market Cap = US$15,174 per Neta
US$1B Market Cap = US$30,349 per Neta
Neta on Osmosis
Neta tokens have been available since 1 February 2022, and you will be able to get them through the swap function on Osmosis.
If you are familiar on Osmosis, the $NETA / $OSMO Pool #631 is now incentivized with a current TVL of US$5m.
You will be able to participate liquidity pools by contributing 80% of Neta tokens with 20% of OSMO tokens.
Getting started with Keplr wallet
Installing the Keplr Chrome extension
To get started with Keplr, you will need to first download its Chrome extension here.
They also have mobile apps, but it is important to note that only the Keplr Chrome extension installation is fully supported currently.
Creating a Keplr wallet account
When you have the Keplr Chrome extension installed, you can now create your Keplr wallet account!
You can do this in two ways:
First, you can create an account with the usual seed phrase method.
Simply select the "Create new account" option, and save your seed phrase in a secure place.
Do try to write your seed phrase down physically on a piece of document, and keep it somewhere safe.
Finish by entering a name for your account and password, and you are registered!
A second way is using the Google One-Click Login.
Simply select the "Sign in with Google" option.
Next, you'll be prompted to sign into your Google account with your email or phone (and later password). Click "Next", and you're done!
Also Read Getting Started With The Keplr Wallet: The Leading Wallet For the Cosmos Ecosystem
Closing thoughts
In my opinion, Neta is like the Bitcoin of Cosmos. Furthermore, running on the interoperable smart contract network, Juno, will bolster the Neta token to a be a game changer in it's space.
It is almost like giving back to the Cosmos community by rewarding early adopters. I feel Cosmos has a strong focus on the community as newer applications continue to release on Cosmos with their respective airdrops.
Most importantly, we have to watch and monitor the space on how this store of value will play out in the future. Also, a reminder that the claim for the airdrops closes soon! Check your eligibility here.
Featured Image Credit: Chain Debrief
[Editor's Note: This article does not represent financial advice. Please do your own research before investing.]
Also Read: Osmosis: A Guide To Staking And Farming On This AMM Protocol For The Cosmos Ecosystem