Gorilla Networks will be tapping into the technology and the full potential of NFTs within the Web3 and blockchain space by creating a metaverse. They are delving head first into "reimagining telco within the metaverse" and claiming the throne in being the World's first web3 telco.
Gorilla's currently has a network coverage to over 160 countries, and offers customers the ability to convert unused mobile data into NFTs and Gorilla GO tokens, which can be redeemed for vouchers, among other perks.
Read more on S'pore blockchain-based MVNO Gorilla Networks acquired by Society Pass, plans regional expansion
Web3 allows permissionless collaboration with anyone building on the blockchain which goes in line with what Gorilla believes in bringing true ownership of telecommunication products and services to the world.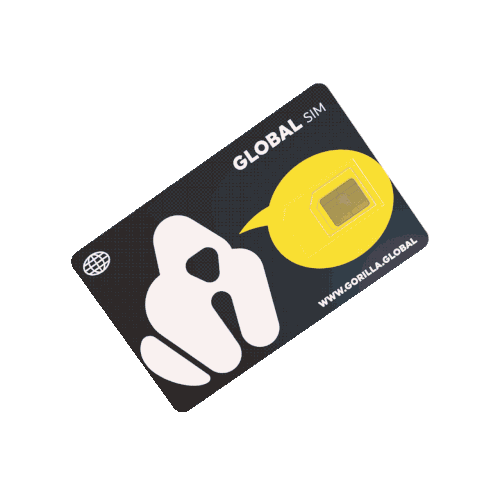 The Gorilla team plans to move all of its existing consumer products to Web3 in formats we all are very familiar with, tokens and NFTs. This would include mobile plans, SIMs Cards and various add-on bundles as examples across multiple chains.
The Gorilla Go tokens are utility tokens created for the purpose of facilitating transactional services. These tokens can be used to offset on-chain transactions prices for product purchases and the redemption of tangible rewards.
The Gorilla GO tokens will be on the Ethereum layer 2, Polygon Network, Binance Smart Chain (BSC) and many more.
One of the main approaches to introducing the GO tokens into circulation is the SwithBack feature of Gorilla SIM as rewards. Unutilized mobile data blocks are converted into GO tokens in the user's wallet.
Reward points alliance
● Blockchain-powered partners can convert their own rewards points to GO tokens on-chain with Gorilla-issued smart contracts.
● Web 2.0 partners will also be provided with APIs that proxy the interaction with smart contracts.

On-chain conversion of GO tokens from on-chain partner tokens
● Gorilla will also partner with merchants with existing loyalty programs to allow conversion of their on-chain reward points or tokens to GO tokens, vice versa.
Secondary methods include airdrops and rewards to users under marketing and PR campaigns.
Gorilla's GSIM NFT
This first groundbreaking web3 project by Gorilla started off by transforming roaming data eSIMs into mintable NFT. The Gorilla ĠSIM NFT represents the ownership of a mobile data eSIM with roaming mobile data of 5GB; purchasing a ĠSIM NFT equates to purchasing an eSIM that is verified and guaranteed on the blockchain.
Gorilla has already built a GSIM management dApp which allows users to view all their SIMs and respective data usage information currently available on both IOS app store and Google play store.
Here's a guide on how to mint a GSIM.
Gorilla Building Towards A Metaverse
Their aim is to onboard global traditional telecommunications to the metaverse through their established web3 ecosystem. The company will also do so through the expansion in global partnerships and mergers with MNOs and MVNO.
1. GLVT NFT
Launch of Gorilla Membership NFT Collection.
NFT owners will be provided with eSIMs,data plans, travel related products and most importantly ĠTC Tokens when launched that is essential to empower future wanderlusts with the ability to participate in Gorilla Mobile Data Utility Pools, thus improving traveling and connectivity for everyone.
2. ĠMobile NFT
ĠMobile NFT is the next version of Gorilla ĠSIM integrated fully within the Gorilla Web3 ecosystem which is a mobile bundle that consists of a myriad of telco products like SIM cards, mobile data, roaming data, talktime and SMS. ĠMobile NFT grants the owner access to real-world SIM/eSIM and mobile data.

Users will be able to top-up mobile data to ĠMobile NFT, transfer ĠMobile NFT to another wallet, and reissue a new SIM. Mobile data purchase and assignment comes directly from Gorilla on-chain Mobile Data Utility Pool where users can participate in Mobile Data Staking Protocol.
3. Gorilla Telecommunication Bridge
Metaverse communication will be made borderless. Gorilla will expand mobile services to more countries, supporting multi-country services and products on Web3.
4. Gorilla Mobile dApp
Gorilla mobile app will be upgraded to become a fully decentralized application (dApp) experience for web2 and web3 users alike. Web3 users are able to connect to their own external wallets and access all Gorilla web3 products and services.
Check out a more in-depth look into their roadmap here.
Gorilla's Unique Positioning In The Web3 Economy
Gorilla is currently innovating and improving on fully operational traditional telco functions for users to slowly accept the shift towards true ownership within the web3 and metaverse space continues to grow.
Mobile telecommunications presents the most seamless and convenient way for users to interact with the metaverse. As such, all major Gorilla mobile products and services will evolve to be web3-first, conforming to token of NFT standards across multiple chains.
Gorilla will also implement an internal operational custodian wallet service that will be provided to all users to allow them to experience web3 without ever needing to upgrade or complicate themselves with blockchain intricacies.
This is a crucial next step to move Gorilla products and services to the web3 while maintaining service excellence to current web2 users.
The team also envisions a complete Web3 ecosystem for telco where the sign-in and identity will be performed with a decentralized wallet. They will also adhere to all required regulations for "know your customer" (KYC) responsibilities.
Their KYC service will be Web3-native on-chain verification vouch with an off-chain trusted verification bridge. This approach allows all Gorilla Web3 users to be verified but still keep their on-chain identity private to other users.
This also allows all of Gorilla on-chain services and partners to trust verified user wallets and perform all functions directly on-chain.
While Gorilla capitalizes on the shift towards a metaverse with the existing telco industry, Gorilla's products and services will be made easy for non-web3 users to seamlessly access their products through its custodian wallet service.
This article was written in collaboration with Gorilla Networks.