"A Secret is something that you don't want to share with everyone, but still want to share with people you choose to trust. A secret is something that you want to keep protected not because its something bad, but because it is something valuable"

Secret Network
We all know that blockchains are powerful technology. They allow anyone, anywhere to save and transfer information, to interacting with decentralized applications and to create a reliable storage of truth.
It is great how blockchains are so open, but there comes a big problem — privacy.
In Web3.0, all data is public to everyone, creating security risks and usability challenges. The truth to this access of public data is that sometimes we do not want every piece of information to be available all the time.
If given the choice, we need to be able to choose what is public and what is private.
Secret Network is the first blockchain with programmable privacy. For the very first time, you will be able to create dApps using encrypted data making sure private information stays private.
What is Secret Network?
The Secret Network is the first blockchain with privacy preserving smart contracts.
Smart contracts are self-executing pieces of code that are managed on the blockchain. Most smart contracts, like the ones on Ethereum, are public by default. This would mean all data used in smart contracts are public.
Secret improves on the traditional smart contracts and is supported by encrypting inputs, outputs and encrypted smart contracts.
First, a user sends encrypted data to Secret's decentralized network of "secret nodes." Next, nodes in the network perform secure computations on this data.
The raw data itself is never revealed, even to the nodes themselves. Then, all the nodes come to consensus and agree on the result of the computation, updating the state of the network.
Secret Token
The native token the Secret Network is $SCRT. Just like all other public coins like BTC and ETH, SCRT is also a public coin that is used mainly for utility and governance across its network.
All SCRT transaction are visible on the public blockchain.
The Secret Network allows users to deposit their public coins to create a synthetic, private coins called Secret Token (Not to be confused with its native token SCRT).
An example is the popular Ethereum asset, ERC-20, which can be wrapped as Secret Tokens.
Secret tokens are the asset used in Secret Network' secret's contract, which preserves privacy. To ensure regulatory compliance, Secret token holders have access to a viewing key which they can use to prove their ownership.
Viewing Keys are used to validate the identity of someone who queries a specific account. They can be generated to allow third parties, including other contracts, to view an individual's balance.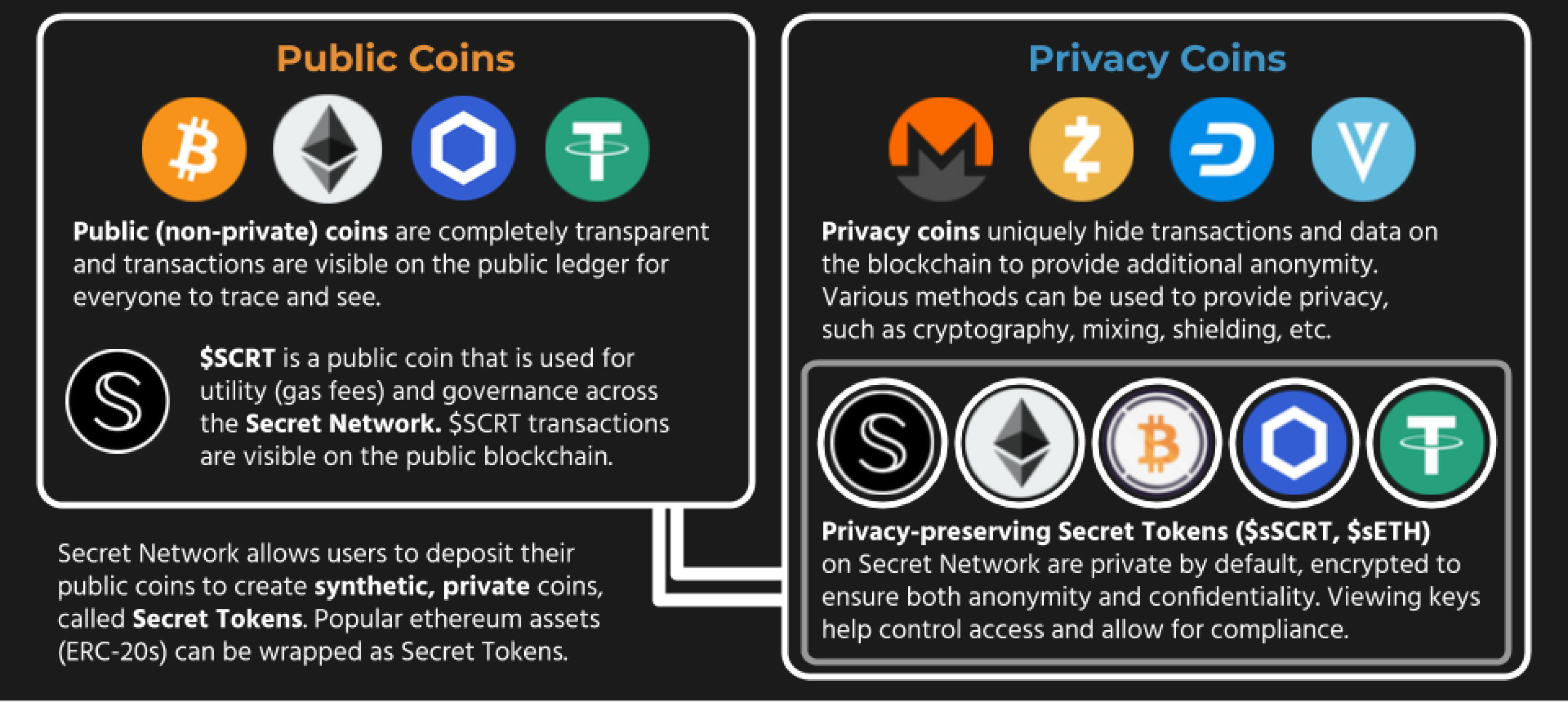 Interacting with Secret tokens will ensure all transactions are encrypted, ensuring both anonymity and confidentiality.
This blend of privacy and transparency allows the Secret network to address multiple use cases other cryptocurrency would not such as DeFi applications which are resistant.
Uses for Secret tokens
Unlock programmable privacy for supported tokens on other blockchains via Secret Bridges
Trade, save, and invest on Secret Finance, privacy-preserving DeFi applications built on Secret Network
Mint SecretNFTs, NFTs with private metadata built on Secret Network
SCRT Tokenomics
SCRT is the native coin of the Secret Network blockchain. It is used to for staking and governance on the Secret Network. SCRT has a initial supply of 150 million SCRT.
SCRT has an inflation rate of anywhere between 7-15% per year depending on what percentage of SCRT is being staked on the Secret Network (more stake, less inflation). This is to incentivize participation.
Secret bridges
Secret bridges connect the Secret Network with other blockchain networks to allow holders from various ecosystems to create privacy-preserving versions of the Secret tokens.
Once assets cross the Secret Bridge as Secret tokens, they can be used across Secret DeFi applications which are natively private by default and are multi-chain interoperable, meaning they support assets across various blockchain ecosystems.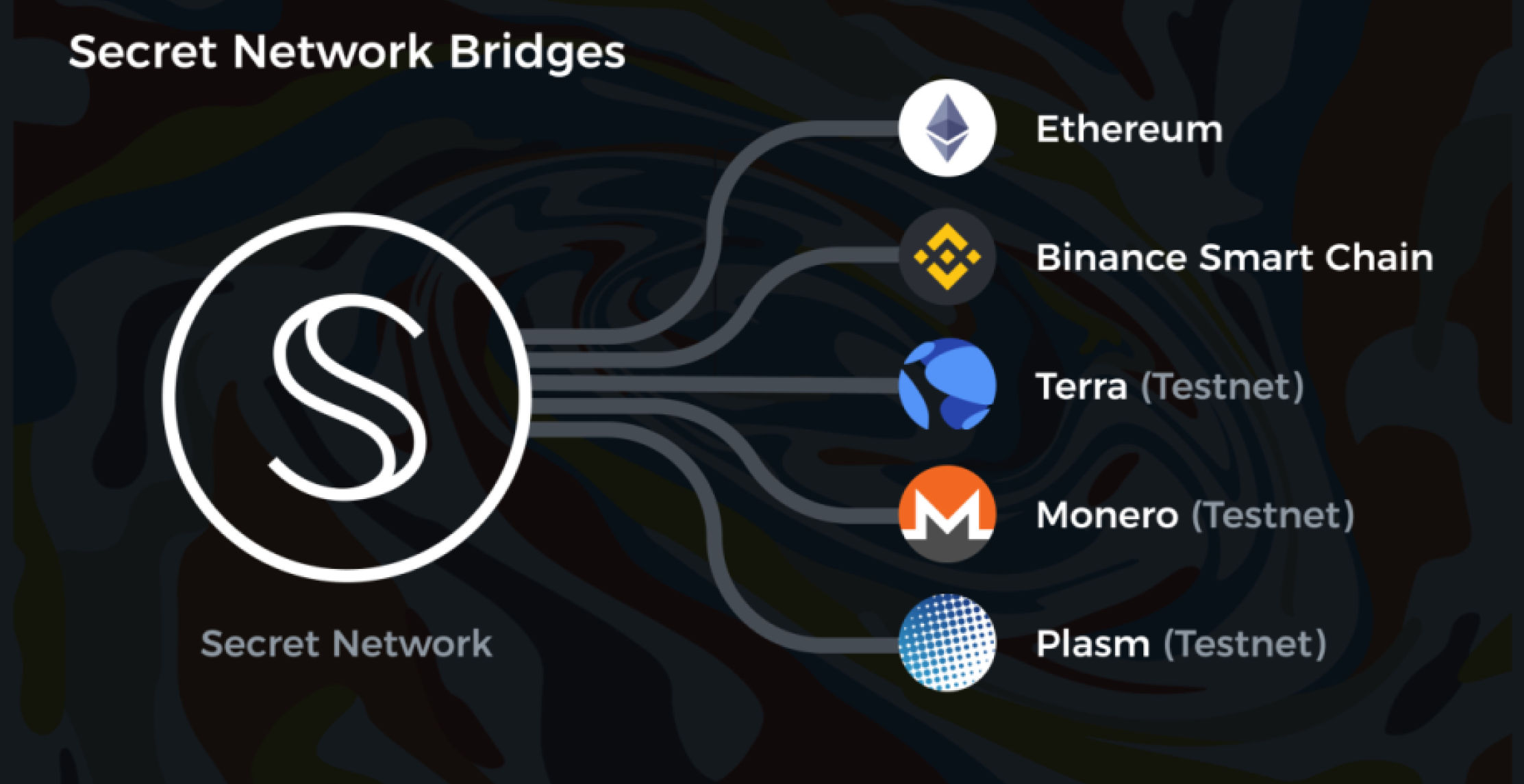 Secret already allows a number of tokens across Ethereum and Binance Smart Chain to be moved and swapped privately across chains. New bridges will give the same access and functionality to other blockchain networks.
Multi-chain interoperable privacy hub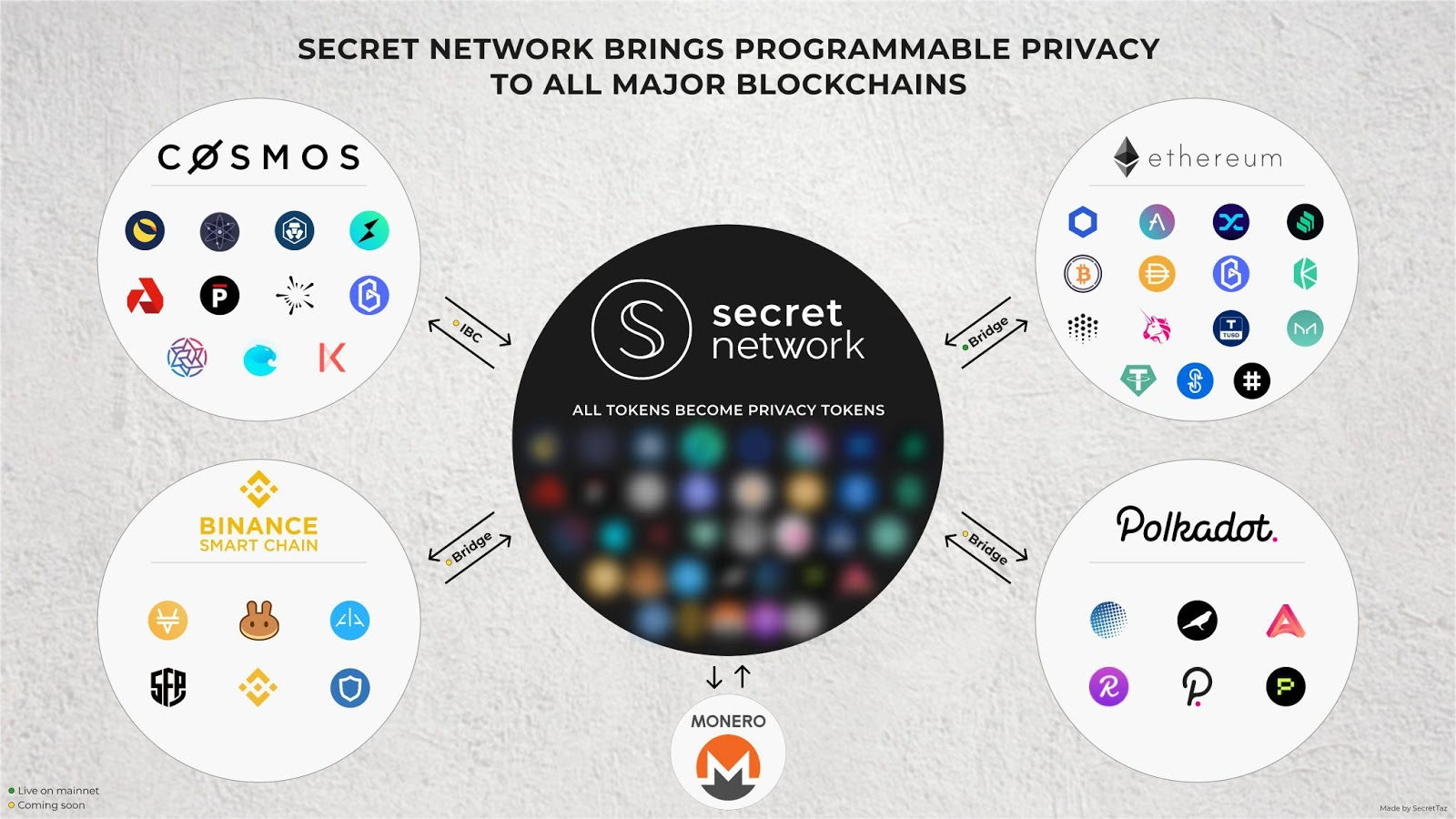 Secret Network's mission is to become the go-to multichain interoperable privacy hub. This vision of the future involves different blockchains with specific purposes all benefiting from being able to use private data safely and securely.
Secret Finance
Secret Finance encompasses all decentralized financial (DeFi) applications enabled by smart contracts built on Secret Network.
Since smart contracts on Secret Network are privately encrypted, Secret Finance applications are private by default, meaning your sensitive financial data will be secure and protected from onlookers and even front-running bots.
Traditional DeFi applications built on smart contract platforms like Ethereum came with one major trade-off – all financial data is public by default.
With Secret Finance, DeFi and privacy no longer have to be mutually exclusive. DeFi applications built on Secret Network are private making the future of Web3 more secure and safer for everyone
What can you do with Secret Finance?
Swap Secret Tokens
Provide liquidity for Secret Token pools to earn attractive yields
Exchange assets peer-to-peer privately within a sealed bid auctions
Decentralized exchanges to get your SCRT
SecretSwap is the first ever privacy preserving DEX. Modelled after regular AMMs like Sushiswap and Uniswap, SecretSwap will also feature its own governance token.
Other AMMs will be able to get your SCRT tokens are on the Osmosis Network, Sushsiswap, Uniswap and Pancakeswap. You may also get your tokens on centralized exchanges above like Binance and Huobi.
(Also Read: Osmosis: A Guide To Staking And Farming On This AMM Protocol For The Cosmos Ecosystem, Here's How You Can Buy Tokens On Decentralized Exchanges Such As Uniswap)
Wallets to use for the SCRT token
Secret Network is secured by the SCRT coin (Secret), which is used for fees, staking, and governance. Multiple wallets provide support for SCRT transactions and staking.
(Also Read: Osmosis: A Guide To Staking And Farming On This AMM Protocol For The Cosmos Ecosystem)
Shade Protocol
Shade Protocol is an array of connected privacy-preserving DeFi applications built on Secret Network. Launching on Shade Protocol is Silk — an algorithmic stablecoin native to Secret Network with transactional privacy by default.
Mint Silk and Shade using Secret Tokens, stake Shade to enjoy passive rewards, and convert seamlessly between multiple assets.
Steps to stake or provide liquidity
Connect your Secret Wallet
Launch the Shade Protocol application and connect your Secret Network compatible wallet such as Keplr or Citadel.one.
A Secret Network wallet is needed in order to maintain the SNIP-20 private and fungible token standard, ensuring your privacy and security.
2. Deposit your Secret Tokens
Deposit your Secret Tokens for Silk or Shade. Conversions are calculated using contract integration with a decentralized cross-chain oracles integrated onto Secret Network.
3. Stake/Provide Liquidity
Use your newly minted Silk or Shade tokens to stake or liquidity provide, earning passive rewards in the form of Shade.
Secret NFTs
With Secret NFTs, verifiable ownership of goods and experiences do not have to be public. On Secret Network, the process of validation occurs without compromising any private data, including proofs of authenticity and transfers.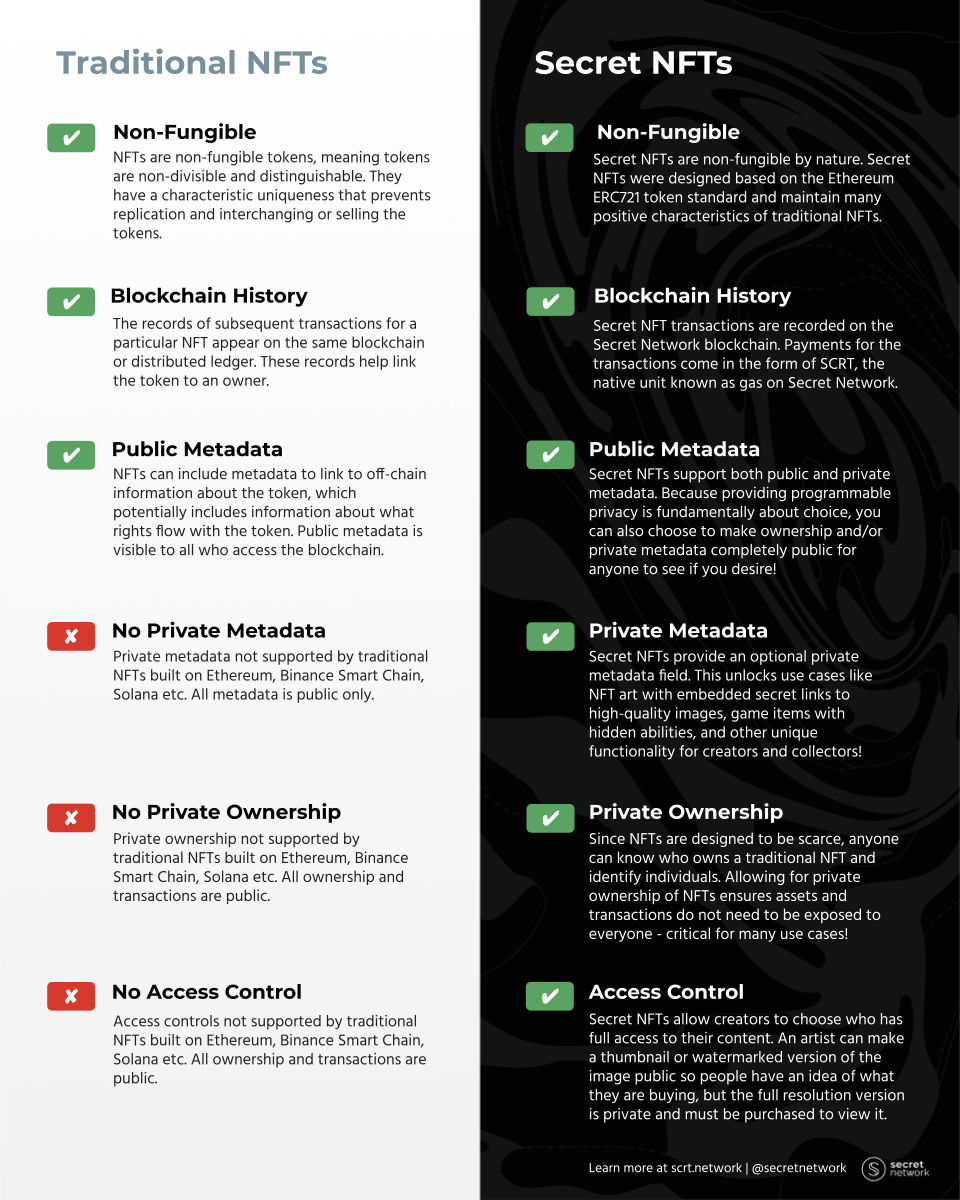 Use cases for SecretNFTs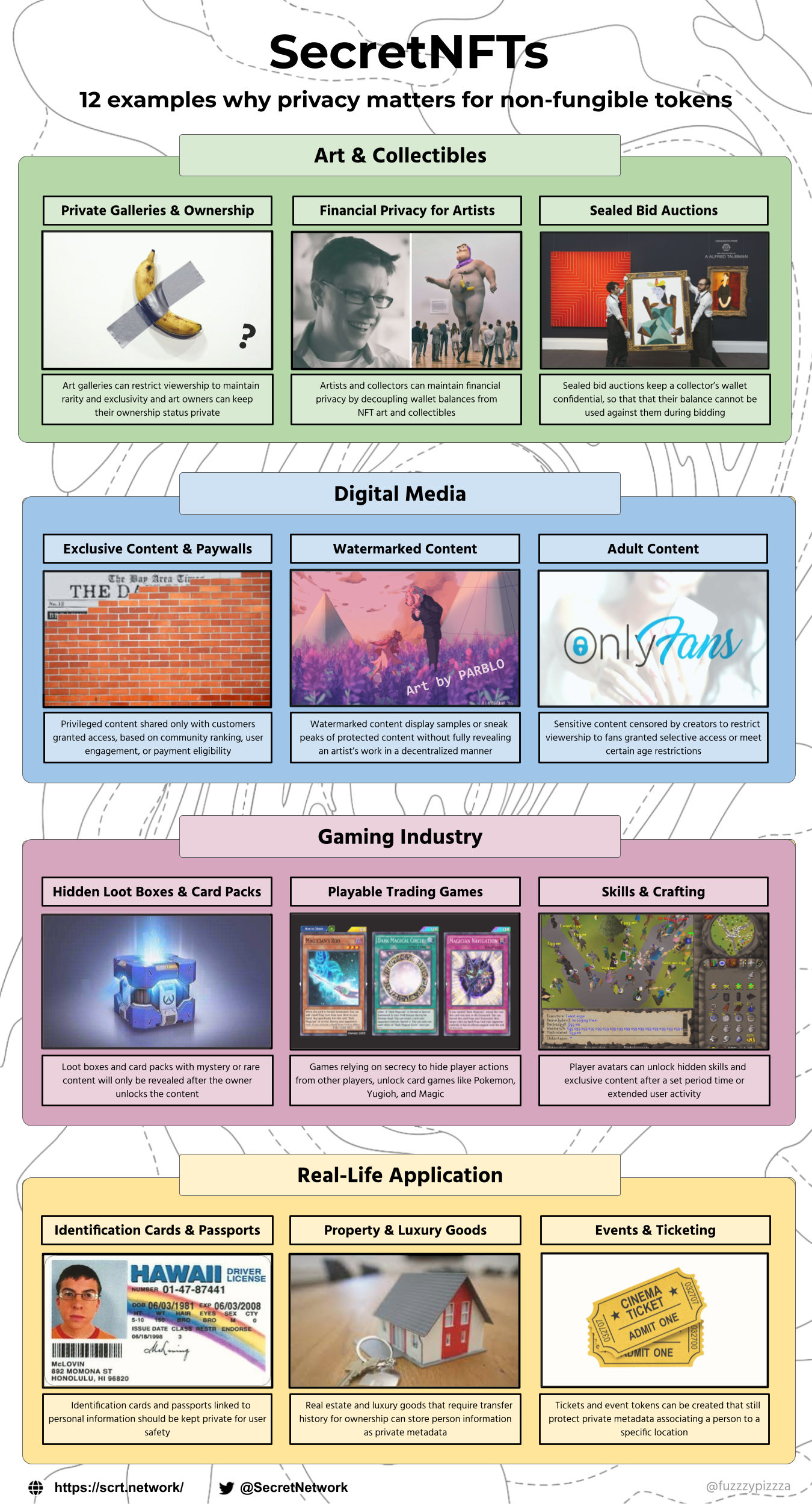 Once you've gotten some Secret NFTs, head on over to Stashh, Secret Network's own NFT marketplace, to get some privacy-enabled NFTs. One of their more popular collections is Anons.
Secret roadmap
For more information on the roadmap, do utilize Secret Network's interactive page to get the latest details.
Closing thoughts
Privacy is essential to the security and adoption of Web3, DeFi to NFTs. Secret Network brings new and unique privacy functionality to the space and will be foundational to the next generation of successful web3 applications.
In my opinion, the crypto space will evolve into a space with full transparency yet having that option to mask and keep certain information private. This may be utilized by institutions, as well as crypto influencers in making their transactions in a more discrete manner.
Secret has also announced a US$400M ecosystem funding with a US$175M accelerator pool. They have serious backing and building on the Cosmos's IBC will only garner more traction for the use of Secret Network.
[Editor's Note: This article does not represent financial advice. Please do your own research before investing.]
Featured Image Credit: Chain Debrief
Also Read: Why I Am Investing In Cosmos In 2022, And Why An "ATOMic" Explosion Is Incoming