You might have heard about Crypto.com from their extensive marketing efforts and breakout year.
Crypto.com is a multi-functional crypto exchange and debit card provider with the goal of attracting new crypto users.
It implemented over US$100 million in advertising campaigns which will run for many months in more than 20 countries.
Crypto.com already has active branding collaborations with Formula One, the Philadelphia 76ers basketball club, Paris Saint-Germain soccer team, Lega Serie A Italian soccer league, and the Ultimate Fighting Championship.
Also Read: Still Looking For A Crypto Exchange? Here's A Singaporean's Guide To Crypto.com
Beyond its marketing efforts, Crypto.com also supports NFTs built on Cronos, and has its very own NFT marketplace.
Cronos is the first blockchain that interoperate with both Ethereum and Cosmos ecosystem and aims to massively scale the Web3 user community.
Projects featured are listed in no particular order.
Here are the top five NFT plays on Crypto.com:
1. Loaded Lions

Loaded Lions is the first native platformed-owned PFP project to be released in the CRO marketplace.
The collection includes 10,000 algorithmically-generated "Loaded Lion" NFTs; some are rarer than others, with a few that are legendary. Every single trait is hand drawn by the creative team.
At time of writing, Loaded Lions has a total volume traded of US$35.4 million and the current floor price of US$2,100. Loaded Lions with rarer traits are being sold over US$10,000.
Owning a loaded lion will give access to giveaways, airdrops and early exclusive selected drops on Crypto.com NFT.
2. PsychoKitties: The New Era
PsychoKitties: The New Era collection features 10,000 unique, algorithmically generated metaverse characters from 96 hand-drawn traits with different levels of rarity which can be views in the ranking table here.
No two PsychoKitties are exactly alike, and each one of them can be officially owned by a single person on the blockchain.
Holders will get early access to future drops and will be eligible for special perks, redeemable, experiences such as private events, exclusive community channels and surprise raffles.
At time of writing, PsychoKitties has a total volume traded of US$11.4M and the current floor price of US$400.
3. AlphaBot Society
AlphaBot Society is the first community-driven "choose your own adventure" style PFP project on Crypto.com.
Each of the 10 thousand different AlphaBot in the collection was algorithmically generated with over 120 individual traits including head unit, body shape, arm type, texture/color, accessories, and more.
Holders not only get a unique avatar but also gain access to an exclusive society with benefits that will increase over time. Holders will become part of the community to expand upon the lore, and create the future of the AlphaBot Society.
At time of writing, AlphaBot Society has a total volume traded of US$4.8M and the current floor price of US$317. Some of AlphaBot Society NFTs with rarer traits are listed with a buy now price of US$1,000,000. The entire collection during the mint also sold out within 19 minutes.
There are 10 different factions which fit the lore of the NFT collection, each has its role to play as the community holders will decide on how the story evolves. The team also aims to provide value to the holders in different ways like special releases, physical collectibles, white list opportunities, along with exclusive virtual events for holders.
4. Marscapes
Marscape was a hidden Easter egg within Crypto.com's first ever brand campaign. The QR code was hidden in a single frame and those who found and scanned the code was taken to a secret website where they can submit their email address to claim their reward.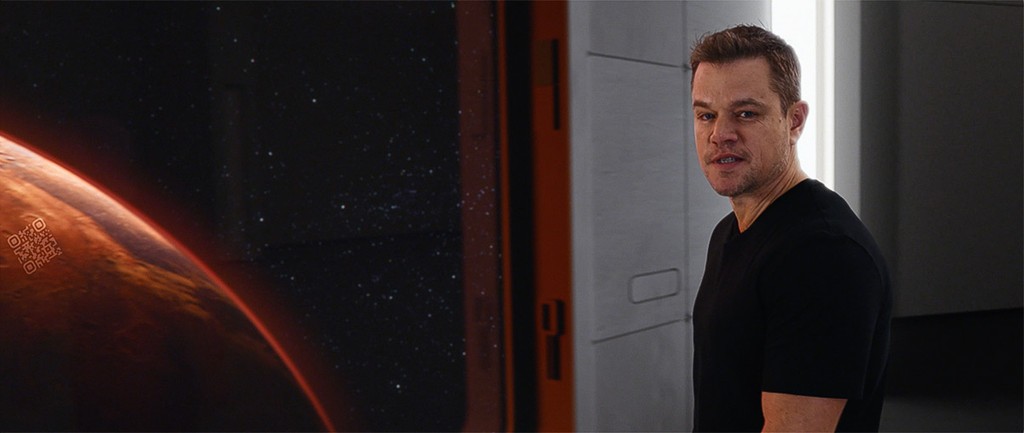 The series contains five unique artworks, each with a fixed number of editions. The earlier someone found the secret and claimed the NFT, the rarer the collectible will be.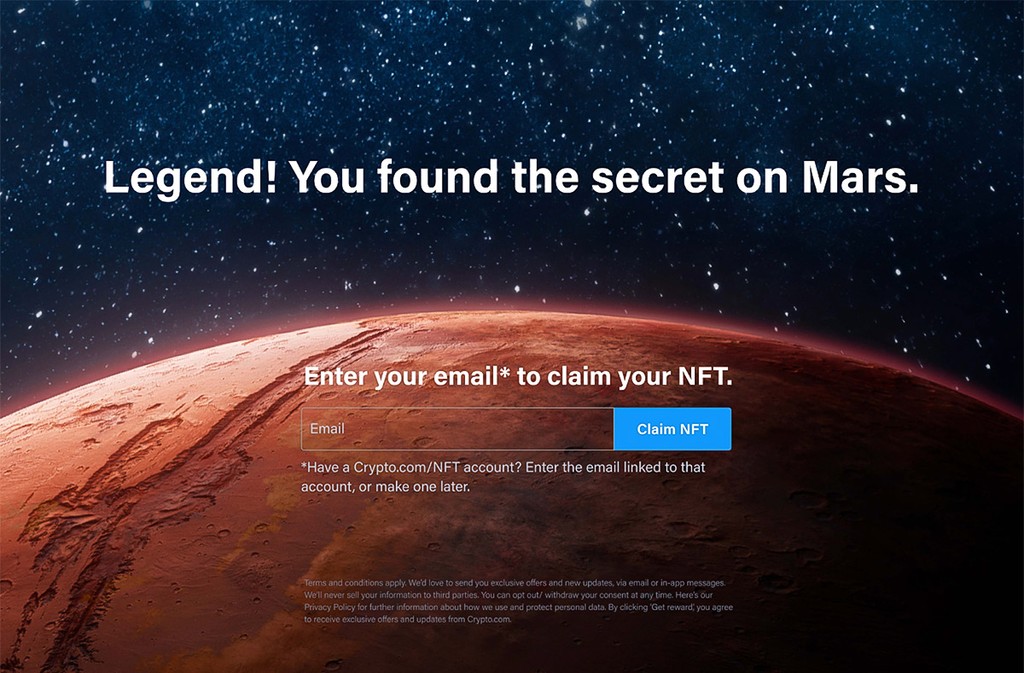 The collection of five NFTs is inspired by the majestic sights on Mars. Each depicts a real location on the Red Planet based on satellite and rover imagery from NASA's Mars missions.
As of time of writing, Marscape has a total volume traded of US$1.1M and the current floor price of just US$14.
The collection was created by Impossible Brief, well-known in the music space for their work with chart-topping artists including The Chainsmokers and Coldplay, and within the NFT world for their recent collaborations with the Tupac Shakur estate, Lionel Messi, and Patrick Mahomes.
5. Aston Martin AMR22 NFT Collection
This collection celebrates the AMR22, the first Aston Martin Aramco Cognizant Formula One™ car to be created to new technical regulations and represents the biggest design overhaul in decades, marking a significant milestone in Aston Martin Aramco Cognizant Formula One™ history.
Each NFT was painstakingly crafted with original data directly from the Aston Martin team's design office and spotlights four critical components—the front wing, rear wing, steering wheel, and halo.
With this drop, fans get a chance to own NFTs of the recently unveiled machine, which will be driven by Lance Stroll and four-time world champion Sebastian Vettel.
Priced from USD$75 each, there are four "AMR22" NFTs in three different tiers that are randomly distributed among surprise packs. They can be unwrapped upon purchase to reveal an "AMR22" collectible, which is tradeable in the Crypto.com NFT Marketplace.
Those who collect certain "AMR22" NFTs by 16 March 2022 23:00 UTC will be automatically airdropped an exclusive "AMR22 Full Car" NFT that will unlock exclusive benefits like team merchandise and race experiences.
At time of writing, AMR21 has a total volume traded of US$2.7M and the current floor price of US$238.
How to buy NFTs on Crypto.com
To buy an NFT with Crypto.com, you simply register and create a Crypto.com NFT account on their site. This will include providing your name, email address, and a display name for your profile. You will then be required to verify your email address and log in.
Locate a listing that you would like to purchase, this will then provide you with the description of the NFT, plus the description and cost. You can also "view available editions" to choose a specific one.
Crypto.com App users can pay using the Crypto.com Pay feature. Meaning that they can purchase their NFTs with the likes of Bitcoin, Ethereum, and the more recently added Dogecoin.
However, any collector or fan can pay for NFTs, regardless if they are a crypto.com user or not. Users can pay with a single click with a credit or debit card.
Metamask, WalletConnect, and "Other Cryptocurrency Wallets", allows you to pay using the tokens that are listed on Defi Swap. If you're not familiar with Defi Swap, check out my tutorial here.
Featured Image Credit: Chain Debrief
[Editor's Note: This article does not represent financial advice. Please do your own research before investing.]
Also Read: NFT 101 Guide: Here's What Every Beginner Needs To Know About NFTs
---
Was this article helpful for you? We also post bite-sized content related to NFTs — from tips and tricks, to NFT alphas on Instagram, and you can follow us here!
---