The price of Bitcoin has rallied over 27% (as of current writing) in the past 14 days.
It is perceived for a fact that we are in a bear market and such an explosive move upwards caught many off-guard. Many players in the market shifted from bearish to bullish recently due to the rally.
In the past week, there's no shortage of positive news coming out from the crypto market. Let's take a look at a few possible reasons that caused the surge in Bitcoin's price.
1) Luna Foundation spot purchase
The Bitcoin Address (bc1q9d4ywgfnd8h43da5tpcxcn6ajv590cg6d3tg6axemvljvt2k76zs50tv4q) has been purchasing BTC steadily over the past 8 days although no one can confirm the owner of the wallet.
However, it has been marked by OKLink as the Luna Foundation address. Unsurprisingly, Do Kwon sent out a tweet on 11 March 2022 claiming to raise USD $10B BTC in UST reserves. In the coming days, we have seen proof the purchase from a particular address almost daily.
Its most recent transaction was a purchase of 2830 BTC at a price of USD $46,969.66 earlier today which triggered the rally into the close of the week.
The wallet currently holds 27,784.96954740 BTC.
2) Russia considering to accept Bitcoin for oil and gas
Russia is the world's biggest exporter of natural gas and the second largest supplier of oil.
Three days ago, Russia is rumoured to be considering accepting BTC for the purchase of their oil and gas.
Also Read: Russia considers accepting Bitcoin for oil and gas
Pavel Zavalny, deputy for the United Russia party, says "friendly" countries are allowed to pay in their local currency or by means of cryptocurrency which was followed after news earlier this week claimed that Russian President Vladimir Putin said he wanted "unfriendly" countries to buy its gas with Rubles.
The move is understood to be aimed at boosting the Russian currency, which has lost over 20% in value this year due to the attack of Russia on Ukraine.
3) EU says no to provisions restricting Bitcoin
There's been many discussions surrounding EU's proposed MiCA regulations, especially aimed at proof-of-work (POW) cryptocurrencies like Bitcoin due to energy consumption concerns.
Stefan Berger, the German lawmaker leading the MiCA regulation, tweeted on Friday that his proposed POW ban was not challenged and that the EU has shown "innovative strength" in blockchain technology.
This led to the decision of any restrictions on Bitcoin, although not limited to non-fungible tokens (NFTs) and decentralized finance (DeFi), in EU provisionally.
4) Goldman Sachs Explores Offering New Options for Cryptocurrencies
Recently, Goldman Sachs, a leading multinational investment bank, announced exploring the option of offering over-the-counter crypto trades for its clients.
Large Wall Street banks still aren't active in the crypto spot market as they have been handicapped by regulatory uncertainty, internal compliance procedures and "know your customer" rules.
This is a big step forward in the right direction as Goldman seeks to offer options and futures trading in Bitcoin and Ether soon with no specific date mentioned yet.
This means that investors with a bigger pocket are able to expose themselves to the crypto market through Goldman as they provide liquidity and takes risk on behalf of clients to facilitate larger trades.
Also Read: Goldman Sachs, Galaxy Digital announce milestone over-the-counter crypto trade
Closing thoughts
It does seem that the market is pretty optimistic now given that sentiment transited from fear to greed in just a week.
According to glassnode, Bitcoin's percentage of supply in profit has reached 81.81% which is the highest level for the current year.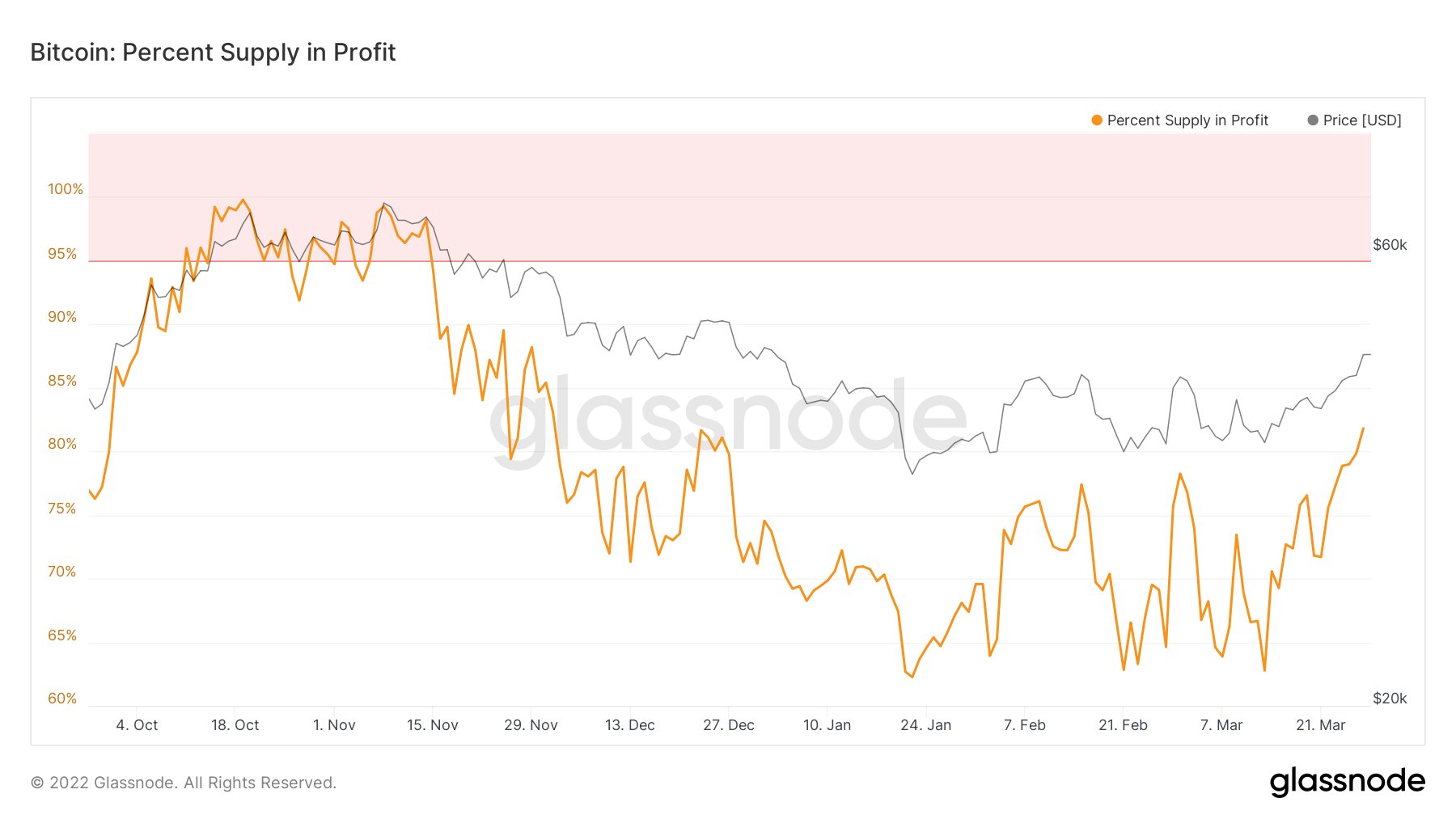 What do you guys think? Are we back to bull market or is this all a fake out to catch late and fomo retail buyers into buying tops before we capitulate?
[Editor's Note: This article does not represent financial advice. Please do your own research before investing.]
Featured Image Credit: Shutterstock