In 2021, Singapore was top in the world for its global crypto economy, ahead of huge economies of Australia and the United States.
Even with a low tax on crypto, Singapore also set clear guidance and regulations on the different centralized exchanges citizens can use.
Huobi Global, for example, can no longer offer services to Singapore-based users in compliance to the applicable laws of Singapore.
Also, the biggest exchange in the world, Binance, had to take similar actions last year in closing down its operations in Singapore.
In this article I will run through a list of crypto exchanges you look to use in Singapore, you may also want to take a look at the list of "MAS pursuant to the Payment Services for Exemption for Specified Period" here and "Entities that are no longer exempt pursuant to the Payment Services" on the MAS website here.
The platforms are ranked in no particular order.
| | | | | |
| --- | --- | --- | --- | --- |
| Crypto Exchange | Trading Fees | Supported Cryptocurrencies | MAS exemption | SGD Compatible |
| Coinbase | 1.49% + 0.5% Spread Fee | 150+ | Yes | Yes |
| Crypto.com | 0.4% | 200+ | Intends | Yes |
| Gemini | 1.49% + 0.5% Convenience | 70+ | Yes | Yes |
| FTX | 0.02%-0.07% | 160+ | Intends | Yes |
| Coinhako | 0.6% | 23 | Intends | Yes |
| LUNO | 0%-0.1% | 6 | Yes | Yes |
1. Coinbase
Coinbase allows users and companies to buy and sell various digital currencies.
Coinbase supports over 150 cryptocurrencies with a simple and clean user interface. It stores 98% of its cryptocurrency offline, in a cold storage, and has an insurance policy to protect crypto holdings.
Coinbase also falls under the MAS exemption list for the Payment Services Act.
You will incur fees of 1.49% when you trade with Coinbase. Alternatively, fees determined by opting for Coinbase Pro would be based on your trading volume over a 30 day period.
| | | |
| --- | --- | --- |
| Pricing Tier | Taker Fee | Maker Fee |
| $0 – 10K | 0.50% | 0.50% |
| $10K – 50K | 0.35% | 0.35% |
| $50K – 100K | 0.25% | 0.15% |
| $100K – 1M | 0.20% | 0.10% |
| $1M – 10M | 0.18% | 0.08% |
| $10M – 20M | 0.18% | 0.08% |
| $20M – 50M | 0.15% | 0.05% |
| $50M – 100M | 0.15% | 0.05% |
| $100M – 300M | 0.10% | 0.02% |
| $300M – 500M | 0.08% | 0.00% |
| $500M – 750M | 0.06% | 0.00% |
| $750M – 1B | 0.05% | 0.00% |
| $1B – 2B | 0.04% | 0.00% |
| $2B + | 0.04% | 0.00% |
Source: Coinbase
When depositing fiat currencies into Coinbase, fees charged to your multi-currency bank account for transfers are relatively high at:
Bank Account Transfers: 1.49%
Coinbase USD Wallet: 1.49%
Debit/Credit Card: 3.99%
ACH Transfer: Free
Wire Transfer (SWIFT): US$10 (US$25 outgoing)
Crypto Conversion: 2.00%
There is no guarantee that coins will be restored in an event when your crypto is stolen in a massive security breach but experts say the robust measures coinbase takes might be worth the extra fees.
2. Crypto.com
Crypto.com is the fastest-growing crypto app who serves over 10 million customers today.
You might know of this company as the one that bought over the Staples Centre, home of the LA Lakers and rebranded it to the Crypto.com Arena.
It has also carried out other high profile marketing campaigns such as one with Formula One, and sponsorships to various sporting teams.
With a sleek user interface and lucrative offering of staking interest rates, Crypto.com supports over 200 cryptocurrencies serves as a platform which provides easy to navigate pages as well as those who seek "passive income".
Their partnership with VISA offers its very own prepaid debit card in 5 different tiers. Benefits for each tier can be compared below based on the amount of CRO tokens (Native token for Crypto.com) you stake.
Crypto.com supports the Singapore currency, SGD with no deposit fees but charges a relatively high trading fees at 3.5% for credit card transactions and 0.4% maker and taker fees over a 30 day period with trading volume below US$25,000.
Also Read: What Is The Crypto.Com Card And Which Tier Has The Best ROI? Here's All You Need To Know
3. Gemini
Gemini is another crypto exchange in Singapore where users caneasily deposit and withdraw SGD using FAST to your bank accounts.
With over 70 cryptocurrencies to choose from, Gemini imposes strong security measures with simple interface for beginners.
Gemini also has a Gemini Earn program which allows you to earn interest on crypto holdings.
On Gemini, users will be charged both convenience and transaction fees every time they buy and sell crypto.
The convenience fee of 0.5% will be included in your final purchase of your digital asset, for example, if BTC is currently trading at US$30,000, you will be actually pay US$30,150 for one Bitcoin inclusive of the convenience fee.
On top of the convenience fee, transaction fees would be based on the amount you trade. Refer to the table below for the range of transaction amounts and the fees which comes along with it.
| Transaction amount | Fee |
| --- | --- |
| Less than $10 | $0.99 |
| Between $10 and $25 | $1.49 |
| Between $25 and $50 | $1.99 |
| Between $50 and $200 | $2.99 |
| More than $200 | 1.49% |
Source: TimeInvesting
There are no deposit fees though cryptocurrency/wire transfer on Gemini but it comes with a 3.49% debit card transfer fee. You will also not be charged for withdrawing crypto from your Gemini account.
If you are a NFT enthusiast, Gemini also has its very own NFT arm called Nifty Gateway which serves as a marketplace to access some of the most sought after art and collectibles.
4. FTX
FTX has more advance trading options like margins and futures, and also gives access to stocks, forex and other markets.
It also supports more than 300 cryptocurrencies, including coins categorized in having a low market cap.
This exchange might intimidating for beginners, but it offers SGD deposits and withdrawals. SGD can be deposited into FTX and converting it on the platform itself.
Users would also be able to withdraw and deposit for free on FTX except for ETH and ERC-20 tokens or small BTC withdrawals.
There is also additional discounts for FTT (Native token for FTX) holders.
5. Coinhako
Coinhako was founded in 2014 by Singaporean entrepreneurs, and its headquarters currently reside in Singapore.
There is no fee on SGD and USD deposits, but you will incur a 0.6% fee charged by Xfers if deposits are made via Xfers Direct Charge.
Coinhako charges 0.1% for every transactions to buy sell or swap cryptocurrencies and there are no fees being charged for openings and maintaining your Coinhako account.
The platform supports 23 cryptocurrencies.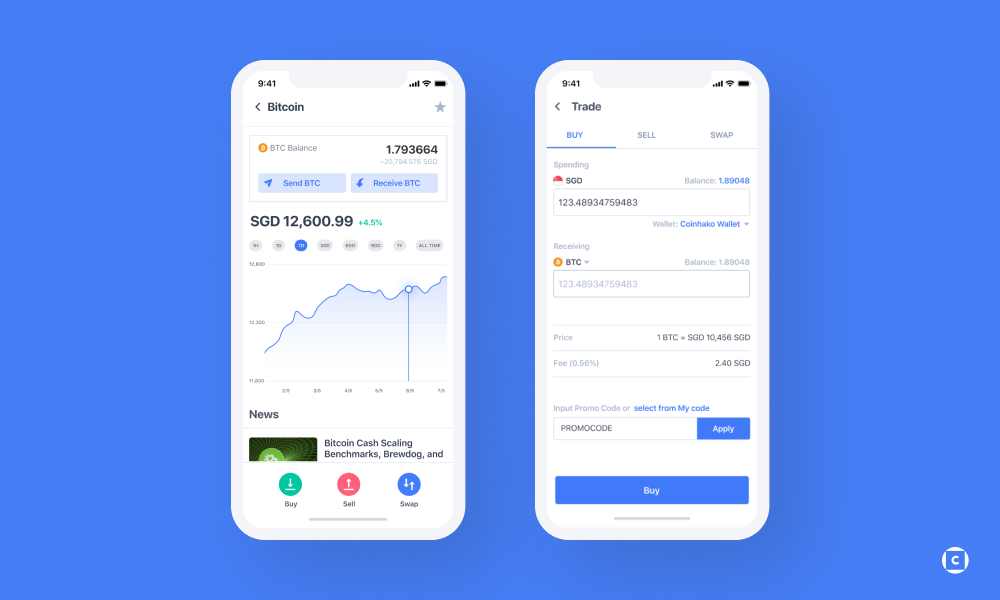 6. LUNO
LUNO exchange is a good fit for those who primarily value low fees and excellent security. The exchange is made with beginners in mind and a good choice for those new into crypto.
They offer beginner friendly crypto trading with interest on crypto savings. They make crypto trading easy and accessible with a beginner friendly web platform and mobile app without needing a steep learning curve.
Signing up and verify your identity within minutes and you will be able to deposit money through one of the accept payment methods.
They also provide a one stop shop in making passive income by earning you interest on your fav crypto tokens.
Their low trading fees aren't like other exchanges in the market. Maker-taker fees start at 0% and 0.1%, and can get lower for investors with high monthly trading volume. There aren't many platforms that beat crypto trading fees of 0.1% or less.
| 30-DAY TRADING VOLUME (EUROS) | MAKER/TAKER FEES |
| --- | --- |
| 0-249,999.99 | 0% / 0.10% |
| 250,000-499,999.99 | 0% / 0.09% |
| 500,000-999,999.99 | 0% / 0.08% |
| 1,000,000-1,999,999.99 | 0% / 0.07% |
| 2,000,000-3,999.999.99 | 0% / 0.06% |
| 4,000,000-7,999,999.99 | 0% / 0.05% |
| 8,000,000-15,999,999.99 | 0% / 0.04% |
| 16,000,000 and over | 0% / 0.03% |
However, one thing to consider is the small selection of crypto available. There are currently only 6 which you can buy and sell which pales in comparison with other exchanges. If you are looking for a place to buy Bitcoin and Ethereum, Luno works fine.
Luno supports the following cryptocurrencies:
Bitcoin (BTC)
Ethereum (ETH)
Ripple (XRP)
Litecoin (LTC)
Bitcoin Cash (BCH)
USD Coin (USDC)
Conclusion
As I will be migrating all of my funds from my Huobi account to another exchange, this article would also give you a general sensing and feel for the crypto exchange most suited for you.
If you are a HODL-er, you may want to consider platforms with staking and interest yielding capabilities or maybe an exchange with a more advance trading features if you are looking do day trading.
Also, there are many other platforms out there which you can try but may take a longer route in onboarding your SGD funds.
What is important is starting your crypto journey on a safe and secure platform as there are always perks offered by the different exchanges, which, in the grand scheme of things may be small compared to the security of your funds.
Featured Image Credit: Chain Debrief
[Editor's Note: This article does not represent financial advice. Please do your own research before investing.]
Also Read: A Complete Guide On How to Transfer Your Funds From KuCoin To MetaMask Wallet