Welcome to Market Debrief, where we summarise some of the notable events that happened throughout the week.
The crypto landscape is ever-changing with new innovations and regulations popping up every day.
It is very hard and time-consuming to keep track and filter all the latest news in this space, and so the Chain Debrief team decided to compile it into an easy-to-digest article.
Stablecoin supply rises amidst bear market sentiments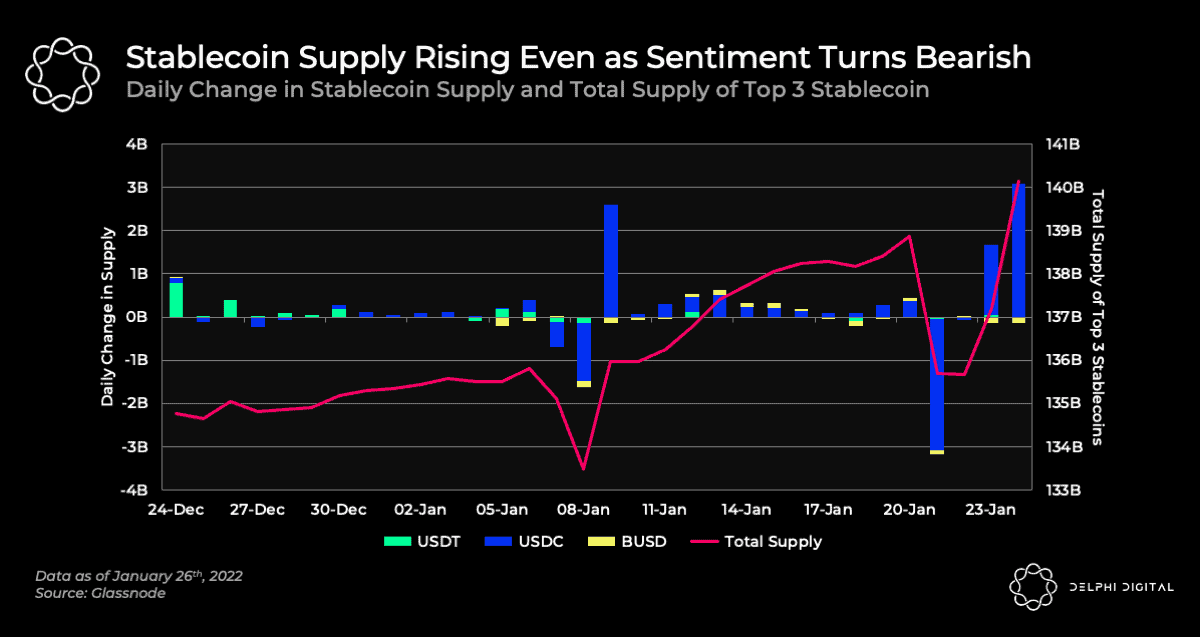 Despite the fear, uncertainty and doubt evident in the market, stablecoin supply has grown by US$5.3 billion over the past month.
USDC in particular saw a massive surge of US$5.3 billion in supply in Jan while USDT only grew by US$700 million. This can be a sign of money entering the markets as more USD gets used to mint stablecoins.
MakerDao profits soar from mass liquidation
Source: Dune Analytics
Earlier this week there was a massive crypto sell-off and the whole market was in a sea of red. Cryptocurrency fell over 14% and triggered liquidation events all over the DeFi space.
MakerDAO, one of the top lending protocols, collected over US$17 million in liquidation revenue. This liquidation event helped MakerDAO to boost the overall revenue and it hit a new all-time high. 
When a position is liquidated, a liquidation penalty is charged as a percentage of the debt. The vault would then use the liquidation income to buy back and burn its native token $MKR to increase the value of the token.
Altcoins seeing green: MATIC up 10%
Similar price increases are evident in Cardano, Solana, Shiba Inu, Ripple, and Chainlink. More impressive gains came Dogecoin (8%), Avalanche (9%), MATIC (10%), CRO (8.5%), and NEAR (12%).
The lower-mid caps also showed similar strength. The most significant gainer on a daily scale was Waves (40%), followed by LRC (17%), GALA (15%), HNT (14%), SCRT (13%), ENJ (13%).
The cryptocurrency market cap now stands at US$1.7 trillion, which means that the metric is up by US$200 billion since the monday, 24th January.
Solana network instability
Solana, one of the largest blockchains, often known as the "Ethereum killer", suffered a major network outage that lasted more than eight hours. Users were unable to submit transactions on the blockchain due to high level of network congestion.  
This resulted in a flurry of liquidations as users are unable to repay their debts in time and their position got liquidated. Inevitably, Solana dropped more than 38% and lost more than US$1 trillion in market value.
Twitter Digest
After adding 410 Bitcoin on the 22nd of Jan, the IMF urges El Salvador to remove Bitcoin as legal tender
CoinShares lists world's first crypto ETP with transparent rewards and reduced management fees
Merging of $SPELL and $TIME, what will the future hold for $TIME?
#BinanceStopScamming has been trending on twitter since the January 26. This hashtag grew in popularity when users in Africa had their accounts wrongly suspended
Ethereum developer ConsenSys poised to double its valuation in pending fundraise
This article was written by Gabriel Sieng and Joel Zhao.
Featured Image Credit: Chain Debrief
Also read: Buying The Dip? Here Are Some Tips You Should Know Before Making Your Move